Tonight's episode, "Tried and True," has the characters dealing with a lot of trust issues. We're still reeling from that ending scene! Can you believe the path that Anderson took? How well is General Lane informed to know the choice Anderson made so quickly? Whew! There is a lot to unpack in tonight's episode! As we mentioned before, we had a very special opportunity to go along with this episode! Yesterday I had an opportunity to talk to Emmanuelle Chriqui about Lana, the fallout, and what to expect moving forward. Our thanks to Emmanuelle for taking time out of her day, please enjoy our chat below:
SUPERMANANDLOISTV.COM: There's one quote from last week's episode: We're not going to pretend; we're going back there to celebrate you with family and friends. How has Kyle's betrayal affected Lana as a mother, wife and as a woman?
You know, I think a bomb was dropped. I think it's not even that she was all together that surprised because she knew exactly who it was, when it came about. I think, though, that the bigger question is: how much is she going to take? They've just gone through so much together, and yes, there is so much love there. So, I think that this kind of betrayal is difficult to bounce back from.

In that moment, it was all about we are going to deal with this, just not now. We are going to put on a brave front and we're going to go and celebrate you and then in the next episode, we really feel all the feelings and we really go there. That's the kind of thing that just sort of ebbs and flows. You have good days and you have bad days. I think that for a while, it'll just be Lana coming to terms and just being on her own and happy to be on her own.
SUPERMANANDLOISTV.COM: Lana is someone who's always thought of helping the community but with this event, how important will the community be in helping both Lana and Sarah?
I think it'll be everything. It's sort of one of the benefits, if you will, of living in a small town as everybody knows everything about what's going on.
SUPERMANANDLOISTV.COM: Everybody knows—for better or worse!
Exactly, for better or worse! At these times, like running for mayor, those are all absolutely welcome distractions. I think her friends show it to her in all the ways that she needs, and the relationship with her and Sarah, too. The relationship that they have together is one where they really lean on each other.
SUPERMANANDLOISTV.COM: That's a big step for a young woman.
Yeah, it is. It's a lot. It's a big cross to bear and I think she knows that, but I don't think that there's any choice. She felt really duped by the situation as well. Her journey will be about, "How do I separate these things because my dad is my dad, and I love him, but I need to be there for my mom." Those are real things that children of divorced families deal with. As an adult, trying to move through a separation or what have you, it's about trying not to pollute the children's brains with all this negativity.
SUPERMANANDLOISTV.COM: Do you think that we could see more childhood friends coming back from the past to support Lana like Clark is?
I don't know. I mean, ideally, but I just don't think that we have time in our show. I think we're doing so many things and exploring so many things, but we can assume that Emily Phan and all the characters that we've already met are being incredibly supportive.
SUPERMANANDLOISTV.COM: There's a lot of family heartache for your family on the show, but what's it like to be working with them as just actors?
Oh my god, it's the best! Erik, Inde and I, it's always a great day when the three of us get to work together because it's fun, it's safe, and everybody comes with their A-game. There were some difficult, very vulnerable moments that Erik and I had to do for this last episode. I was so grateful that it was him. It just felt safe to fully go there, and I was just grateful for it. We've amazing chemistry as a family, and we were all very cognizant of it.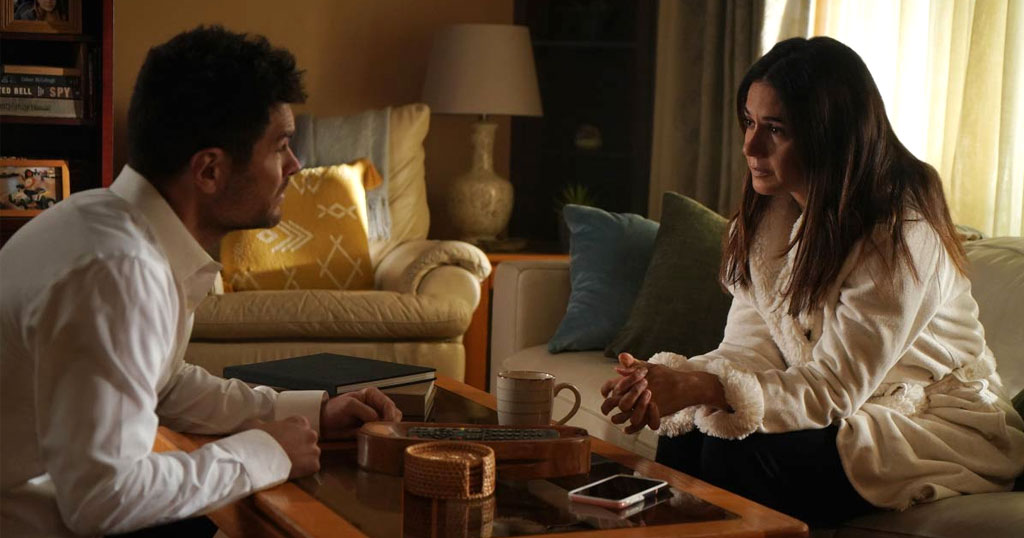 SUPERMANANDLOISTV.COM: What was your reaction when you saw Tyler in the suit for the first time?
Oh, my God. It was just like, this is awesome! It was exactly how in my mind's eye I would imagine Superman to be. It was actually really wild when I first saw him. It was like, of course he was born to play Superman!
SUPERMANANDLOISTV.COM: You grew up in Canada and acting since you were little. Was it always something you wanted to pursue, even as a child?
Oh, yeah! Absolutely! I started when I was seven and sort of never looked back. I just kept going, and now it's been much more than half my life, and I still am loving it. That's the craziest part. There's been tumultuous times, to say the least, but I think that when you love something so much, you just don't even entertain throwing in the towel. That's for sure true with acting. I love it so much that it's not an option to consider anything else.
SUPERMANANDLOISTV.COM: Speaking of other acting roles, you recently starred in the movie, Cosmic Dawn as Natalie, which was such a good movie. Can you tell us more about your character in that compared to Lana?
Oh my God! Completely night and day! I mean, Natalie, was such a trip to play, dealing with cults, abductions, and just being so brainwashed—someone who had so completely drank the Kool Aid.

It was just such a cool film to be a part of. Even when I read it, I was like, whoa, this is really cool. Because even just when you say alien abduction, you just almost roll your eyeballs like, "Are we gonna really watch this?" Then when I read this script, I thought this is so cool, because he was really talking about all the other themes. It just happened to be called 'alien abductions,' but could it have been anything else? It totally could be.

It could be joining a cult, this notion of our other half exists somewhere else, or this improved version of ourselves. I thought that the script was so cool, so grounded, and I just had such a fun time playing that part.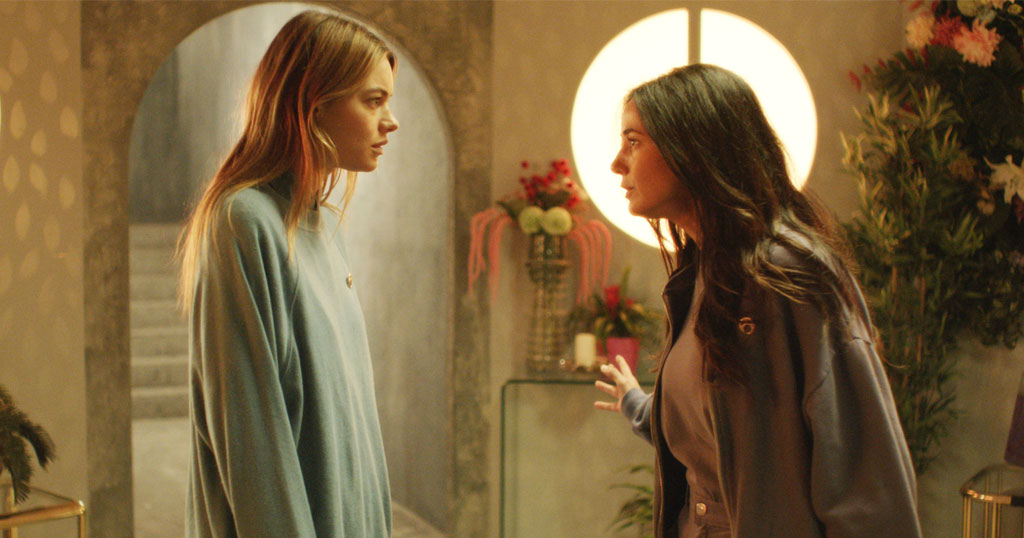 Cosmic Dawn | Film Mode Entertainment
SUPERMANANDLOISTV.COM: It was awesome to see you in that role, we hope more people see Cosmic Dawn! What was your favorite moment on set for season two of Superman and Lois?
Thus far, I would say my favorite moments are every time the Cushings get to all be together. I love when I get to work with Clark and Lois, it just doesn't happen that often. So, there's been times in the coming episodes where I get to do stuff with Lois and I'm like, "What's this? Oh my God, I miss you!"
SUPERMANANDLOISTV.COM: I'm glad you spoke to that because I love their (Lana and Lois) relationship. It's nice to not have women be jealous of each other but lift each other up and be supportive.
There is more of that later in the season, and I'm so happy for it too. Also, my favorite moments would just be when the whole cast is on set, you know? It's a great group of people so those are always fun moments.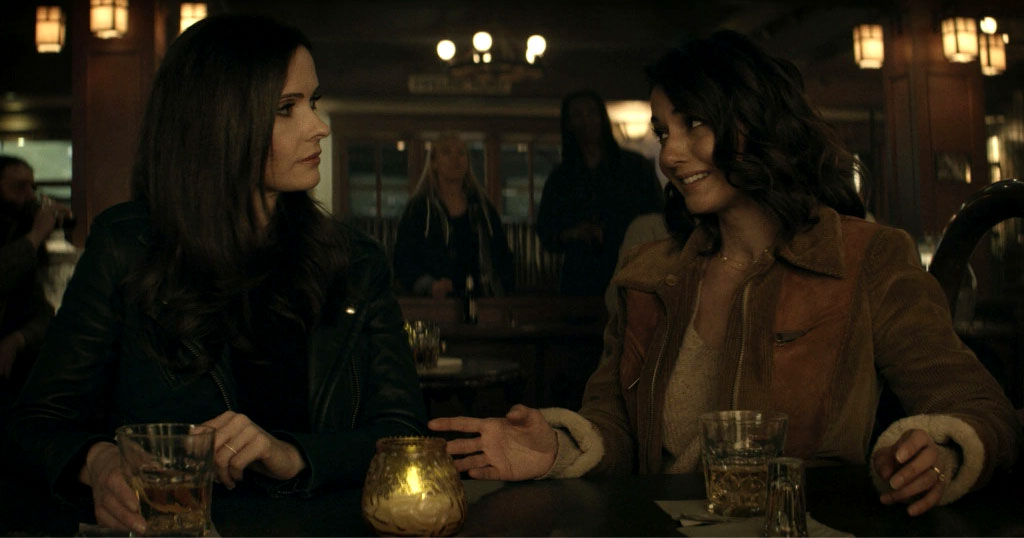 SUPERMANANDLOISTV.COM: What's Lana's journey now moving forward?
I think her journey moving forward is definitely healing. Finding her strength to independent and on her own, and that path to empowerment is the journey ahead for her. Without giving too much away, there's really amazing stuff that happens.
If you'd like to learn more about Cosmic Dawn, go to Cranked Up Films. If you've been with us since the days of Supergirl.tv, you know we do these sites as a labor of love. While some of our sites do include minimal advertisements, we try and keep them off as much as we can. So when an opportunity like speaking to Emmanuelle Chriqui comes our way, you know that not only are we excited for the site, we are excited as fans!
Let us know what you think in the comments below and in our forum! Keep us advertisement free and visit the support page!