3/28/2023 6:00 pm

Time for another Superman and Lois and we are so excited/worried. After last week's major reveal that Lois is sick and could be dying, the Kent farm is rocked. We will surely see the ramifications of Lois' illness as well as what this means for the family, but what stood out to us from the last episode, how powerless Superman looked when he heard the news. So shocking! What's in store for the Kent family and intergang? Let's find out, here's what stood out to us:
Nightmare Scenario: Clark has a nightmare that he couldn't save Lois in an earthquake and this mirrors exactly how he feels in real life, with all his power he can't save his wife. Lois begins on telling her friends and family about the diagnosis. The boys make Lois all her favorite foods for breakfast knowing that she won't have much of an appetite after treatment. John Henry gets all the Langs set up on their new security system. Lois and Crissy track down a lead on Mannheim but Lois misses her appointment.
Doctor's Office: Lois and Crissy arrive at a doctor's office that has been cleared out by all the staff. There is even fresh blood there. That said, her family and friends try to refocus Lois on her treatment. Jon, Nat, Jordan and Sarah develop a plan to get a gift for Lois that she'll love and not return. Clark says he is going to take Lois to her treatment tomorrow. Sarah gets dinner with Kyle. Nat wants to give Lois her mother's watch but John Henry isn't very pleased.
Nightmare on Repeat: Clark has the same nightmare about Lois. The pair arrive at the treatment center but Clark is pulled away with a flood. The watch is powered with the same tech within the Irons' suit. John Henry is still not pleased. With Clark pulled away, Lois uses the opportunity to join Crissy on the investigation and again misses her appointment. Kyle goes to check up on Lana and investigates her relationship with John Henry. Lois and Crissy run from the guys with guns and find a blood center!
Blood Center: Lois and Crissy call for Superman's help but the signal isn't getting through. Clark listens from space to try and find Lois. Superman arrives at the D.O.D. to get help from Sam and John Henry. Jon asks his girlfriend, Candace, about his truck, its gone missing and he thinks her dad took it. Lana and Sarah have a fight over Kyle and Lana actually hits Sarah when she claims that's why Kyle cheated on her.
Operation Watch Truck: Natalie, Jon and Jordan find the truck and the watch and devise a plan to get it back. Lois hands herself over to the guards and Clark immediately arrives to help. Superman takes out the guys with guns but one of them has some kind of future or kryptonite gun that hits Superman. Natalie gases the chop shop and while Jordan and Natalie take out the bad guys, Jon gets his truck back. Superman is held at bay with the weapon but John Henry arrives and saves him. The building is destroyed to hide any evidence.
In the final wrap up moments, Clark gives Lois a piece of his mind. Lois explains why she is feeling the way she is feeling. The D.O.D. finds out that the blood they were experimenting with is Superman's blood. Candice arrives at the farm to speak with Jon. She found the watch and proves that her dad is a thief. Jon tells Candice about the party. Lana begs for forgiveness from Sarah through her locked door. Crissy meets up with Kyle at the diner. She invites Kyle back to her place but Sarah arrives looking for her dad. Everyone shows up to give Lois the watch and Clark takes her to her appointment. Check out a preview for next week's all new episode below:
Let us know your thoughts below and in our forum! Don't forget to follow us on Twitter for breaking news!
3/21/2023 6:00 pm

Welcome back Superman and Lois fans! With the DCEU crumbling around itself and the movies that are going to come out have no future with the reboot, we are still happy on our little oasis that is Superman and Lois. It really is the only place to get Superman content and the quality matches that of any big budget film in works today! Truly an incredible achievement! Last week's season opener clearly had some of the most cinematic scenes we've seen with Superman cocking his head to the side walking through fire! Incredible! But, let's look forward to an all new episode of Superman and Lois, Uncontrollable Forces! Here's what stood out to us:
Lois' Health: We open with a montage that there is something wrong with Lois' health. Lois and Clark discuss having another baby but seem to be ok with not moving forward. Natalie and Sarah find a party in Metropolis they want to go to. Former Mayor George calls Lana for help, he is attacked from the mysterious figure from the last episode. Before he can tell Lana everything he is killed.
Judge Interview: Clark and Lois head to Metropolis to interview the judge that let Henry Miller out. Jonathan and Jordan hear about the Metropolis party too and make plans to go. Kyle and Crissy discuss the death of the old mayor and notice that he was killed without bullets somehow. At the party, Natalie and Sarah find out Natalie's crush is taken. Jonathan and his ex take a moment for a private chat. Sarah introduces Mateo to Natalie. Sarah runs into Jordan at the party. In Metropolis, the Judge is being pressured by some criminal types.
Metropolis Mystery: Clark and Lois split up to follow the criminals and the judge. Natalie hits it off with her new guy, Jonathan gets a gift from his ex and Jordan and Sarah talk about their new normal. Lana goes to John Henry's place and ends up staying for dinner. The judge goes to the roof of the courthouse seemingly to kill herself. Mannheim calls to Superman for a visit.
Mannheim and Superman: Superman interrogates Mannheim. Mannheim claims to be the hero of Hobbs Bay. There is no way he can be caught. Lois begs for the judge to get down from the ledge. Lana and John Henry speak of the "pride of Smallville" and gather it might be a clue to something. Jonathan's ex makes a move on him, but he has his girlfriend in Smallville. He retreats immediately. After crushing the boys from Metropolis at beer pong, Sarah and the Kent boys get into a fight. Sarah throws a drink in the bully's face and the Smallville kids leave. John Henry and Lana find a USB at the mayor's office right when they get attacked.
Mayoral Attack: The mystery figure arrives at the mayor's office and takes the USB from Lana. Mannheim speaks on how he is the hero of Suicide Slums. Lois tells the judge that she has cancer and it's aggressive. This gives the judge hope to step down from the ledge. Superman and Lois hug on the roof having overheard the cancer diagnosis.
In the final wrap up moments of the episode, we discover that Lois has stage 3 inflammatory breast cancer. Its a rare and aggressive form of cancer. Jordan froze the bully's new car in revenge. John Henry sets up a security system for Lana. Lois and Clark tell the boys about her cancer. Check out a preview of next week's all new episode below:
Let us know your thoughts below and in our forum! Don't forget to follow us on Twitter for breaking news!
3/14/2023 6:00 pm

Welcome back Superman and Lois fans! Today we are kicking off the start to season 3! First, as many of you have heard, The DC world is in complete reset as the company has decided to start in a new direction that has ousted Henry Cavill as the silver screen's Superman. This has led to questions regarding Superman and Lois' future. As we know we clearly have a season three and from what we are hearing, there is still room for more Superman and Lois. The network is very happy with the show and its quality. Only matched by Stargirl, Superman and Lois outshines other comic related shows and we are so happy to have more stories to watch! Now for season 3 opening:
27 Days: We join the Kent family about a month after last season. They are in the new fortress. Lana announces a new town hall. Clark has started working at the Gazette. Clark and Jordan race while flying to the new fortress. Clark sets Jordan up to train at the fortress while Lois and Jonathan train to drive. Natalie and General Lane decide to go to a movie together. The Irons are now working for General Lane at the DOD. In Malaysia there is a crane disaster and Jordan goes to help but makes the situation worse, Superman arrives to save the day.
Disobedience: Jordan and Clark talk about the disaster at the fortress. Later we discover the school has a black mold problem. Lois goes to see this Earth's John Henry Irons' sister, a doctor in Metropolis. Our Earth's John Henry was somehow involved with illegal gun trades. It's hinted that Lois might be pregnant.
Another one on the way: Lois and Clark discuss Lois' possible pregnancy. They aren't sure what to do. Natalie feels betrayed now that Sam used his movie date to try and recruit her. Jonathan and Jordan share a brotherly moment and they go to practice driving. John walks in on Clark buying pregnancy tests. Lois and Lana share a drink but Lois sticks with water. Lana figures it out.
Driving Test: Jonathan goes for his driving test and it turns out the football coach is his instructor. Even with the challenge, Jonathan passed and he is elated. As Jordan's and Jonathan's birthday party begins, John confronts Sam about what he did. The party culminates in a video presentation of the boys growing up. Superman leaves the party early to help Metropolis. Henry Miller is out of jail and has powers now!
Battle in the streets: Superman fights his new powered foe and quickly takes him out of the populated area of the city. Sarah wishes for time with Jordan, but not as his girlfriend. Jordan can hear the battle with his father and sits in terror not being able to help. Superman asks who gave Miller powers but he is gunned down by something that doesn't use bullets. A mysterious figure appears and takes Miller away.
In the final wrap up moments of the episode, Ex-Mayor George confronts Lana about the funds, they were earmarked for some other purpose, the ex-mayor seems scared. Sam goes to apologize to Natalie. Lois and Clark share another moment. We see that Kyle and Krissy shared a night together after the boys party. Krissy hides while Lana delivers the divorce papers. Doctor Irons calls and it turns out Lois is not pregnant. We see Bruno Manheim in an underground facility. They were able to bring back Miller. Check out a trailer for next week's all new Superman and Lois below:
Let us know your thoughts below and in our forum! Don't forget to follow us on Twitter for breaking news!
3/13/2023 8:51 am

On March 14, 2023, Superman and Lois will be making its triumphant return with an all new season packed with captivating adventures and enthralling stories!
We here at SupermanandLoisTV had the amazing opportunity to speak with one of the show's stars, Wolé Parks! Parks is best known for portraying John Henry Irons on the series, and has appeared in many other projects such as Superstore, Yellowstone, and The Vampire Diaries. This season is bound to be a spectacle, and Mr. Parks was able to offer us some insight into what's to come for the third season. He also discussed what it's like to portray a character that's as fascinating as John Henry Irons and what we can expect in terms of his respective storyline this season. Let's hear what Wolé Parks has to say about playing Steel, the third season of Superman and Lois, and so many more exciting things!
What was your first foray into the comic book world? What kind of research did you initially do when you were cast as John Henry Irons?
I used to read comics as a kid, which was a very long time ago, and that's how I knew about John Henry Irons because I read The Death of Superman. I don't remember if that was my first one because I used to read a lot of X-Men comics as a kid; I used to like trading cards, the Marvel trading cards, and all that stuff. So, we'll go with either the X-Men or Superman, one of the two. But yeah, I did know about John Henry Irons because I read The Death of Superman, and it was really, really nice.
What can you tell us about John's journey at the start of the third season? How does it progress throughout the season without giving too much away?
At the end of season two, we have Diggle come in and tell him that Bruno Manneheim is the guy who killed John Henry on this Earth, so that was a big cliffhanger for my character, this John Henry Irons, because now we're like "Wow, we're confronted with this guy who obviously has beef with him, so we got to take care of that". So I'm going to tell you that he's going to go on a huge journey as far as that's concerned, and they're going to have a few confrontations. We're going to see a lot of John Henry confronting that guy, and that's going to lead to a lot of exciting stuff with my John Henry, and you know, Taylor, who plays my daughter [Natalie Irons]. They've been on an interesting journey, too. They finally come to accept this new Earth as their home, but it's like, okay, what does that mean? He's going to be there, and she's going to be a normal teenager. They might not always see eye-to-eye, but it'll be fun for them on their journey.
Can you elaborate a bit on how you and Taylor Buck helped build the bond between John Henry and Natalie? Did you two collaborate this season to show new sides to their father-daughter relationship?
By now, I think he's accepted that she's his teammate, you know. I think the whole last season with him getting freaked out that she had the suit was because he had already lost everything. He lost Lois, his version of Lois; he lost that world, and he thought he lost his daughter, so he's really protective of her. That led to her taking charge and saying "I'm my own person; I can handle myself", so there's that acceptance in that regard. But of course, at the same time, we're still on this new Earth and figuring out how that works with John being a single dad and Natalie making friends; she didn't have any beforehand. That was a lot of her story last season when she felt alone and isolated, so now she's integrated with the family, so what does that look like? It's going to be interesting. There'll be a lot of stuff, but like I said, we'll see what happens because Natalie isn't always going to do what John Henry asks her to do.
How do you relate to John Henry Irons as a character? Do you have any input on what he would say or do in the script?
My general feeling on acting and overall is that there's me, there's the character, and we have to fuse those somewhere. Hopefully, I'm going more towards the character when the character is coming to me, because I want to play myself. I think at this level, yes, definitely. There's an idea of what John Henry might do or say, but I think the writers know already at this point. What's really great about the writing team and the showrunners is that they allow some flexibility, and it all seems to work out.
Season 3 will introduce Michael Cudlitz as Lex Luthor, what was it like working with him and are there any other Superman villains that you'd like to face off against one day?
I have not filmed with Michael yet, but I've heard he's amazing. I've met him, but we haven't worked together. But, he's a powerhouse! As far as villains are concerned, just because I'd be curious to see how they would do it, I would love to see Toyman, just because I think he's so unique and I'd like to see what he'd look like on our show. The thing with Toyman is that he's such an interesting villain, he's kind of like a mini Joker. I'm just curious to see how they'd pull that off and bring him in. We do get a little dark and gritty, so it'd be kind of fun to see somebody throw like a rubber ball at someone and it explodes; that'd be super fun to see.
What's something that you'd like to see elaborated on in regards to John Henry as a character in future seasons? Are there any characters you'd like to have more of an interaction with on the show?
I know people have asked me that before, and I'm always going to say Sofia, who plays Chrissy Beppo, because Sofia and I are so close and we hang out all the time; we just never get to work together. I would say the good thing about this season is that because more people know about Superman, like his identity, it gets mixed around a little bit more, so there's more interaction with people and other cast members. As far as what I'd love to see, if we got to see some of John Henry's original earth, the place where my John Henry is from, I would love to see more of that, and really get into finding out about what happened to that Superman. I would love to maybe delve into that at some point.
Tell us a bit about the friendship the main cast has? How different is the environment from other projects you've done in the past?
It's interesting; we bonded because we were kind of forced to. We shot the show in Vancouver, and most of us are from the US. What happened was that during that time back in September 2020, we all had to quarantine. So you go across the border and quarantine for two weeks, and we always have to do that. They want us to stay in a bubble because you want to avoid the potential of getting COVID, because it'd shut the show down, things like that. So we all ended up hanging out together so much during the first season, and that helped solidify our bond. I'm not going to act like it was easy. I've never had to quarantine before, and quarantine was like six weeks total, and we'd have to go back and forth to the US. The positive is that we all came out of that stronger together, and we all get along and hang out. I've worked on shows where that doesn't happen; that, honestly, doesn't always happen. You have a working relationship with people, which is good, but at the same time, when you're done with work, you want to be left alone. Here, though, we're all together, and we get to bounce around, hang out, and have fun. It's nice, and it shows through the work we do together.
Speaking of prior projects, what's one movie or television show that you've done in the past that you'd like our readers to check out?
Some of the stuff I like to do is dark, because I did Yellowstone, which is one that's becoming a huge show; I did the second season, and that was a lot of fun to do. In terms of the more fun and positive stuff, I did Superstore, which was a lot of fun. I did two episodes a couple years ago. All of this other stuff has been fun to do, like Devious Maids and The Vampire Diaries. That's fun, and I feel like a lot of people know those ones. I've been lucky enough to have a career that's wide-ranging, but I'd say Yellowstone since that was a cool ride to be on.
Final question from our team: what is it about superheroes, especially in our society nowadays, that resonates with you? What can we learn from the values characters like Superman and Steel try to adhere to on the show?
I think one of the reasons why people have connected with our show is because it's as grounded as you can make it. While we deal with superheroes, multiple dimensions, and Bizarro World (which is a bit fantastical), we also ground it with family. I think that's what people connect to. One of the reasons I like Steel as a character and I connect with him is that he's so selfless. He doesn't have any powers, but he's willing to go in there and fight because he cares about people. He cares about everyone, and he's willing to do that. That's a value a lot of people should have more of with all the negativity right now in the world. So it's nice to see some people who just want to support other people and lift others up.
Fan Questions:
El Trono del Rey (@TronoYaelongo) asks, "Will John be getting an 'S' on his chest anytime soon?"
I will say that the writers of the show know what the comic book accurate costume looks like. So that's what I'm going to say: they know what it looks like; that's all you're going to get.
Thomas (@ThomasComicTalk) wants to know, "Did you know you were playing John Henry when you got cast or was it a big surprise? Any chance of seeing upgrades to the suit?"
I did not know I was going to play him when I first got the part. I went in, and it was like dummy sides. They didn't have the real name, but I thought I was going to be Lex Luthor (with the whole Captain Luthor thing). That's what I figured, and it wasn't until after I was cast that Todd Helbing, our showrunner, told me "No, you're actually going to be John Henry Irons". It was huge for me, and after I got off the phone, I started getting emotional. I read the comics as a kid, and I had to hang up immediately when we talked about it; I was just like "I got to go", and I started to get overwhelmed in a good way. It was something I never thought of, and it was like coming full circle. To read a comic when I was ten or eleven years old and to now be in my late thirties and play this character is amazing.
Diego (@diegoterremot0) asks, "If you could interact with any other DC hero, who would it be?
This is very random, but I would say Booster Gold solely because we talked about the possibility of Toyman bringing in some humor and Booster Gold is such a goofy character. It'd be fun to have somebody bring that kind of energy onto our show. I don't know what it would look like, but it'd be fun to throw the characters off and shake up that dynamic.
Thank you so much for your time, Mr. Parks! We at SupermanandLoisTV greatly enjoyed talking with you about the show, and what's coming up!
Are you excited for the third season of Superman and Lois? What could we possibly expect from this new season? Let us know in the comments and forum below!
2/28/2023 2:26 pm

We're finally two weeks away from Superman & Lois' third season kicking-off, and with it we have now a handful of additional images added to our "The Closer" gallery, along with a new poster. What stands out is the stark contrast of the tone of the poster. Where before it felt very grounded, Smallville in the background with a light and natural palette, this one feels a lot more dramatic, much darker with the vivid red, and we're anxious to see how this will reflect the season. In the new images below, we see that there will be a lot of conversations between the main characters, getting us up to speed as to what has been happening in the weeks after the season 2 finale. Check it out:
And here is the poster: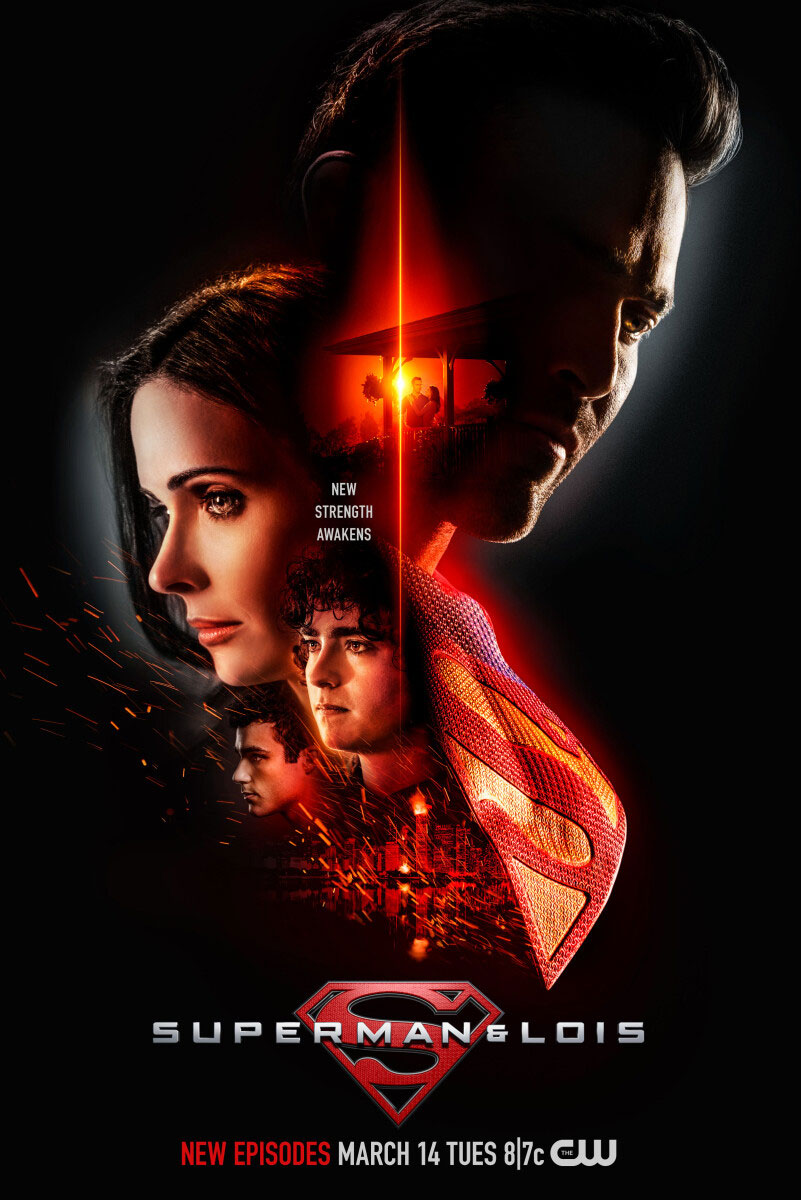 Let us know your thoughts below and in our forum! Don't forget to follow us on Twitter for breaking news!